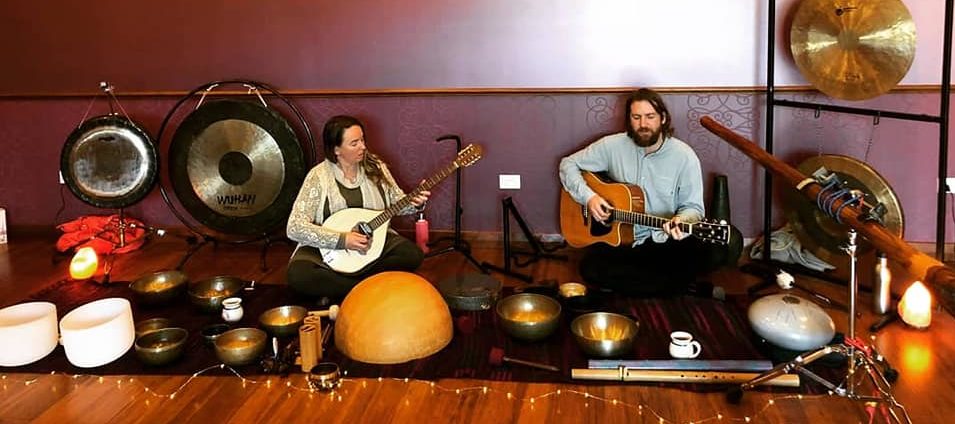 Sound Sangha Retreats with Michelle & James Byrne

Sound is a vessel for healing, a mirror for self- enquiry, and a soothing balm for the soul.
PAST RETREAT HIGHLIGHTS
Wonderful workshops all weekend including sound healing, sacred music, body movement & more:
- Morning practise (yoga/movement, breath, sound meditation)
- Soundbath (of course!)
- Healing songs & chanting
- Chakra sounds & sacred voice
- Sound & instruments workshop- explore techniques to use sound and your voice as a tool for your own wellbeing & personal practise
- Intention/ Goal setting
Our personal retreat chef creates delicious vegan meals with a focus on local & organic produce. (Please inform us of any other dietary requirements upon booking.)
About your hosts, Michelle & James Byrne
Michelle and James have been working together for over ten years, since forming a musical partnership in 2008. They have been offering Soundbaths every first Friday of the month since 2013.
Their love of sacred sound and songs has developed over time, together gathering information and attending many workshops including two immersions at Ecstatic Chant retreat with Deva Premal & Miten (2011 & 2019.)
Michelle has also completed the Healing Sounds Intensive ten day retreat in Colorado, USA with world renowned Sound Healing expert Jonathan Goldman (2017), and holds two Diplomas in Sound Therapy through the British Academy of Sound Therapy (2013/14). In addition she holds a Diploma of Music (2007) and has been a singing teacher for twelve years. Shanti Sound was created in 2011 as a platform to share the uplifting power of sound and music to create peace and wellness.
James is the creator of Cosmic Tone Instruments which was also established in 2011, his beautiful tone drums are now used by sound healers, yogis, meditators and happy holistic humans all over the world. James holds a Cert IV in Music and is currently completing his Diploma of Life Coaching. James is passionate about enabling everyone to feel that they can play music and has been teaching guitar for almost twenty years.